Message from Dave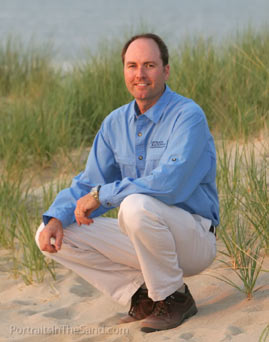 Photography is a career and a passion. I have created pictures from the West Coast to the East Coast and many beautiful places in between. I love the beach and I love photography. I especially love to create a beautiful family portrait to be admired for generations. My own family portraits are my most prized possessions. I am so glad my parents invested the time and money to do it right. I pay very close attention to detail and providing quick, reliable and high quality service.
It is very rewarding to have a job where clients are always smiling and happy. I am very fortunate to make a living at what I love doing and utilizing my talents and skills. I really enjoy this casual coastal atmosphere and it is such a privilege to capture those special memories for people that will be admired for years to come. I am honored to be your photographer.
Let me know of any special requests or concerns before your session. I will try to accommodate your personal needs. I am here to serve you. Please schedule a free, in studio, consultation to see our portraits and go over any questions you may have. If you have any particular poses or ideas, I will be more than happy to try them out. Click here for the answers to the most Frequently Asked Questions.
Sorry If we missed photographing you in the past. There is only one sunset a day where you look your best in a portrait. We now have some openings for your portrait on the beach or in your favorite place. Please call to schedule your Portrait In The Sand.
302-226-9226
Before you come to the beach get excited about your portrait and get enough rest so you look your best. This will help everyone else get in the mood as well. Please forward this website to others that will be in your portrait, so that they too will be prepared and know what to expect for your portrait session. Get your entire group together for that portrait that you have always wanted and don't let another year pass by.
I look forward to working with you,

David Koster M.Photog., CPP